We Pray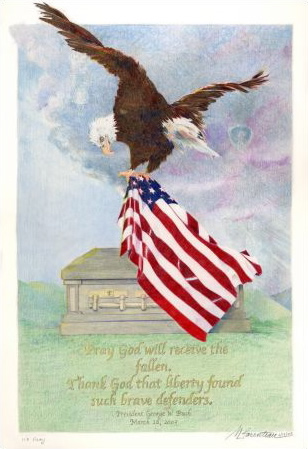 We Pray is a part of my Post 9*11 Series – Ready to Roll. The original artwork is done in colored pencil. The eagle is a wounded American Bald Eagle named Alaska. (She is being cared for by the OJAI Raptor Center in Oak View, CA.) Under her left wing in this drawing she is carrying the Medal of Honor. Under her right wing – which is truly her wounded wing – Alaska is caring the Purple Heart. A lone palm tree is on the casket in honor of all our fallen service personnel, especially those Marines based at 29 Palms Marine Base in 29 Palms, CA where this drawing made it's public debut.
The quote at the bottom of the drawing is from a speech made by President Bush at MacDill AFB on March 26, 2003. It reads:

Pray God will receive the
fallen.
Thank God that liberty found
such brave defenders.
My prayer is indeed that God receive the fallen, and I do thank God that liberty found such brave defenders. I also pray that those left standing will, to the call of freedom, remain ever faithful.
Pray continually. I Thessalonians 5:17
Media: Colored Pencil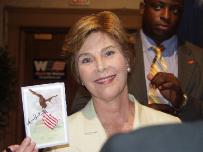 Mrs. Bush autographed one of Rusty's cards on August 10, 2004 in Cedar Rapids, Iowa. Whan an honor!