Consider the Lilies
(Arts at Palm Canyon Plaza Show)
17 1/2 X 21 1/2 " - Colored Pencil
Vellum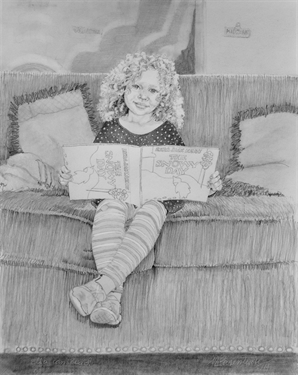 Awarded 2nd Place at the GVAL show!
Ella Can Read
(GVAL Show)
11" X 14 " - Graphite
Acid Free Bristol Board
In Feb 2014 I was reading the Women of Hope Prayer Guide, Education Opportunities for
Women and Girls. In it they stated, "Of the approximately 774 million illiterate people in the
world, two-thirds are female."
That's when the idea was born to do a drawing of a little girl reading a book. So, in the teen
playroom at our church, four-year-old Ella grabbed one of her favorite books, started reading,
and I started taking pictures. I then went home and started drawing. During the process of
completing this drawing other young girls, far away from the safety of where Ella was reading,
who were also reading and studying in a church/school environment, were brutally kidnapped.
Because they wanted to learn how to read.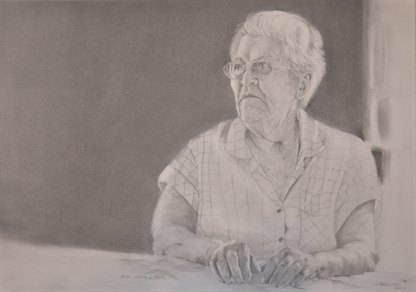 Awarded 1st Place at the Arizona State Fair!
Anne Waiting for Charlie
(Arizona State Fair and GVAL Show)
20 " X 13 " - Charcoal and Pencil and Conté
Acid Free Art Paper
Since Anne couldn't travel long distances any more, Charlie had to go back to close out their house in Kansas, just him and their boy Frankie. That meant Charlie would sleep most of the time, riding in the back seat of the car. Charlie doesn't travel much usually, just to get lunch at Rudy's Diner and drive to church. Anne gets to ride with him, going to Rudy's and church. That's about it. Being over 80 and 90 does have its limitations.
So, Anne waits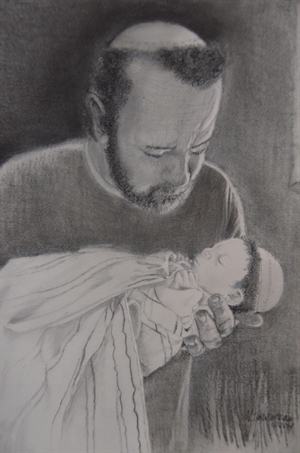 Take the Child and His Mother
(GVAL Show)
19 " X 22 1/2 " - Charcoal
Acid Free Bristol Board
This drawing is a prayer of thanks to the Lord for all the adoptive, foster and stepdads of the world who have chosen to do the right thing. Matthew 2:13